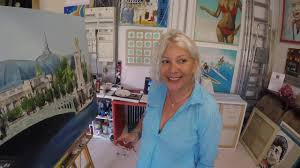 Artiste plasticienne et photographe depuis plus de 20 ans, Sylvie Dimitriou est née avec un pinceau à la main. Très rapidement le dessin, la peinture et la photographie deviennent ses modes de survie.
Son travail abstrait évolue avec l'expérience de la vie et devient méditatif tout en conservant une rigueur très esthétique. Sa motivation est de stimuler nos réactions aux couleurs et aux matières. Les combinaisons sont infinies et cela rend son travail passionnant.
Joan Mitchell, Willem de Kooning, Mark Rotkho, Jackson Pollock sont d'une grande inspiration pour elle, mais la musique tient également une place primordiale.
Sylvie Dimitriou est présente dans plusieurs collections privées et en Galeries dans le monde et participe en permanence à beaucoup de projets artistiques innovants.
 » L'art est la manière dont vous vivez. »
Visual artist and photographer for over 20 years, Sylvia Dimitriou was born with a paintbrush in her hand. Very quickly drawing, painting and photography became her modes of survival.
Her abstract work evolves with life experience and becomes meditative while maintaining a very aesthetic rigor.
His motivation is to stimulate our reactions to colors and materials. The combinations are endless and this makes her work exciting.
Joan Mitchell, Willem de Kooning, Mark Rotkho, Jackson Pollock, are a great inspiration for her, but music also holds a primordial place.
Sylvia Dimitriou is present in several private collections and galleries around the world and is permanently involved in many innovative artistic projects.
« Art is the way you live. »